Magnetic couplings are employed in seal-less, leak-free magnetic drive pumps used to handle volatile, flammable, corrosive, abrasive, toxic or foul smelling liquids. The inner and outer magnet rings are fitted with permanent magnets, hermetically sealed from the liquids, in a multipole arrangement.
The inner and outer magnetic rotors are locked together by magnetic forces and work as a synchronous coupling. The permanent-permanent magnetic couplings create neither slippage nor induction current during rotation. When excessive torque is applied, the magnets will decouple, they will not recouple unless the pump is stopped.
Permanent magnetic couplings offer an efficient, leak-proof, cost effective, and more reliable alternative to various conventional sealing methods.
Advantages
Magnetic Coupling for Standard Applications
Hermetically Sealed
No Contact of Torque Transmitting Elements
No Maintenance Necessary
Optional High efficiency
How does magnetic coupling work?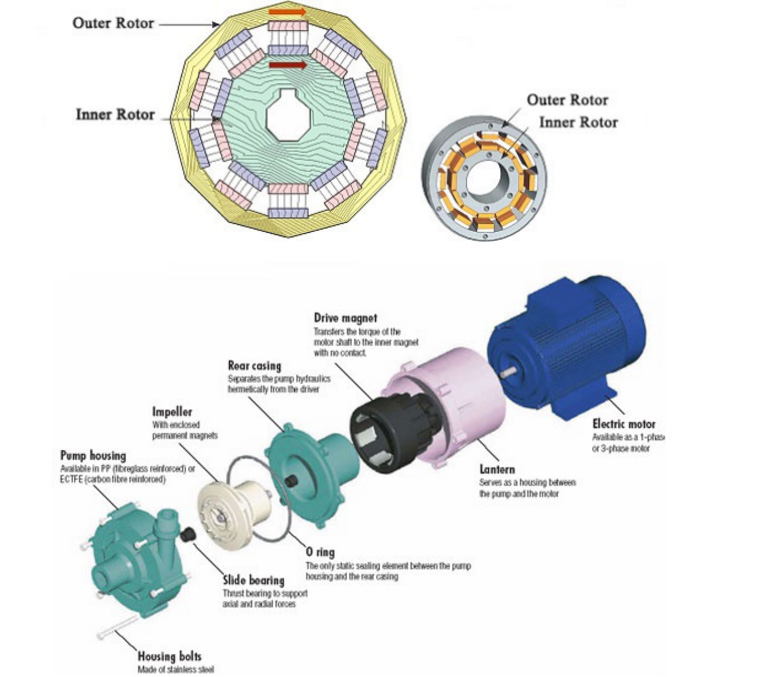 We will help you with your order. Usually we ask for the following information.
1) Product material,size, grade, coating, quantities required. etc..if available, a sketch or drawing with dimensions and tolerances.
2) Delivered magnetized or unmagnetized? Magnetization direction?
3) Information on what you want to use the magnet for?